Do you feel like there is a rift in your relationship? 
Maybe you feel distant from your partner, or that your needs aren't being met? 
Does it seem like you and your partner aren't even in the same book anymore, let alone on the same page, with decisions? 
Is your relationship in crisis? Do you hate that you're seriously considering divorce? Maybe you don't recognize your life anymore.
We can help – if you don't wait too long.
Relationship coaching private, personalized experience designed to move you through the steps you need to resolve communication difficulties immediately.
Now we can be more honest and open, understanding that we can feel differently at the same time and that's okay–both can be right. I feel like we are both present in dealing with issues instead of me feeling alone.
Coaching gave us a forum to focus exclusively on the "nuts and bolts" of being with each other. It taught me to lead more with appreciation and helped each of us to better communicate real feelings with each other
I can tell her when I don't want to talk about something. I am so glad that can be an answer! I didn't want to say that before because I didn't feel comfortable
For most couples, the root of all of their problems – from financial issues to parenting decisions to meeting needs – is
communication.
At Emergent Relationship Center, addressing communication issues is at the heart of our relationship coaching approach. We provide immediate and actionable solutions to communication issues, enabling couples to break through barriers and communicate effectively. 
When an athlete wants to improve in their training, they go to a coach. Similarly, when a relationship needs improvement, a relationship coach can help to raise awareness of ineffective patterns, suggest new strategies, and empower couples to create vital change. 
Through relationship coaching, we offer individual, relevant and timely actions to immediately start creating a better future for partners – both as individuals and together. 
Are you ready to start creating a more open and fulfilling relationship? Are you looking to break toxic patterns and nurture new connection? If so, let's get to work!
Start Your Coaching with an Intensive or Relationship Boot Camp Session and Turn Your Relationship Around
When you are a coaching client, we will tailor your work so that you get the quickest results. Sometimes this means booking a mini intensive (4 hours) or a full day dedicated to getting you unstuck.
Is This Right For You?
Intensives are for if you want to…
Learn the common traps and patterns that leave you feeling disconnected… and feel like your partner finally understands you.

Get results quickly and privately.

Address the root of your issues, instead of tackling the problem of the week – and then learn how to move forward.

"Stop the bleeding" of a crisis like infidelity, addiction, or clashing parenting differences.

Dedicate time for just the two of you to get your relationship back on track.

Feel emotionally and sexually alive again.

Feel appreciated, respected, and loved again.
Why The Customized Intensive Deep Dive Format Works
The Emergent Relationship Center experience is truly different from other intensive programs. When We call it a "Game Changer", we're serious. Our approach is not only about the rapid progress you'll make during our day together. There's continued support for your new skills. After the initial breakthroughs in communication, our follow-up sessions will give you more tools to transform your relationship.
You'll move from being opponents in your marriage to being on the same team. And, just like other successful teams, you'll be doing it with a caring coach.
With the typical weekly therapy model, you lose momentum. New problems pop up after you leave the office, and suddenly, therapy is only putting out the fire of the week. You never catch up to working on the real issues.
50 minutes is not enough time to talk in depth. Your sessions can be disrupted or interrupted. Or it takes 40 minutes to get to the heart of the issue… and 10 more minutes is not enough time to make the change your relationship deserves.
By taking advantage of our longer sessions, you build on the momentum. You have more "a-ha!" moments. You get more insights, your partner finally understands what you're saying, and you have time to practice what you're learning right then, with our guidance.
This is how you create rapid results
​While you may feel overwhelmed by setting aside a whole day for therapy, let us reassure you that it's not as intense as you think.
The time away you take for an intensive is an asset.
Many couples report that it's actually easier to take a day off than trying to get away for a few hours each week.
No more compartmentalizing your day or leaving therapy in a tizzy. No more having to muscle your way through the rest of your day, competing with the emotional drain of a tough session.
Many couples combine an intensive with a weekend getaway. The vacation or retreat mentality lets you leave everyday stresses behind and really focus on your relationship without other distractions.
But, after the weekend is done, the Deep Dive Intensives go beyond those initial breakthroughs. We don't leave you with just insights and tools. We'll continue to follow up and ensure that you're on track and getting stronger in your communication skills.
​The progress will continue.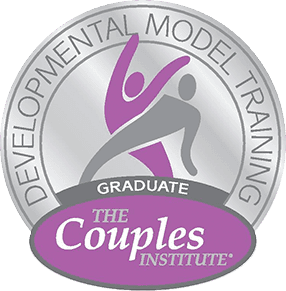 What kind of options are there?
Relationship Boot Camp Session (typically 4 hours)
Customized agenda for session.

Good to work on a specific issue.

Great way to get some clarity and begin implementing change now.
Relationship Intensive Full Day
Amounts to up to 3 months in therapy.

Good for couples wanting to get started now.

Helpful to address and breakdown patterns to create immediate changes.
Relationship Breakthrough with Follow-up Support
Amounts to up to 3 months in therapy.

Get started now and address additional stressors.

Customized plan to address specific patterns.

Ongoing support to keep momentum and create new patterns.
Relationship Breakthrough and Emerge
Amounts to up to months of work.

Customized plan to detangle major issues.

Make radical shifts and step into a transformed relationship.

Get started and make progress over 2 days rather than further ongoing work.
Full Day Agenda Sample
This Program Can Turn Your Relationship Around
Frequently Asked Questions